Anyone can write an Article, but an SEO optimized article is a whole different game. Everyone wants that #1 spot on Google's search results, especially for those highly trafficked keywords. If that's the case, then YOU NEED TO MASTER WRITING SEO-OPTIMIZED CONTENT, where you optimize each Post or Page with specific Keywords.
With these precious keywords strategically placed within your Articles, Search Engines will notice your efforts and JUST MAY RANK YOUR PAGES BETTER THAN OTHERS! If no one visits your page even if you've written the best articles, then WHAT YOU'RE DOING IS A POINTLESS EFFORT. Making sure that your Content is SEO-Friendly is beyond doubt a TOP Priority if you want to Grow Your Website or Business.
What is SEO?
Why are people concerned about SEO? SEO, or Search Engine Optimization, is the practice of increasing the number and quality of visitors to your website by improving rankings in search engine results.
Research shows that websites on the first page of Google get almost 95% of clicks. The higher you rank, the more clicks you receive.
What's in it for you? Well, more visitors mean more potential clients. It's that simple.
How does SEO work?
Google and Bing score their search results based on the relevance and authority of the web pages they craw and include in their web index.
These search engines also check how your site is using words that people search and type into search engines. The content on your website must be useful and provide high quality content that helps answer the user's question.
SEO also involves making sure that your website is accessible and technically sound and optimized.
How to do SEO?
SEO is a combination of technical and creative activities involving onsite SEO and offsite SEO.
Onsite SEO refers to updating your website to increase organic traffic. Activities such as analyzing and using the words frequently being searched on search engines, making sure that your website can be indexed, and ensuring that the content shows trust and authority, are among the ways to improve search engine ranking.
I have listed the latest Free SEO tools that will help you handle this. Go to my Resources section to find these tools.
Offsite SEO refers to external activities, such as increasing popular links from other websites, writing for other external publications, and reaching out to bloggers and influencers to promote your website.
Although, these activities often require expertise to optimize your website, they can be studied and learned.
Another option is to hire a professional SEO agency or SEO expert to help with your requirements.
Writing SEO optimized articles
The main purpose of search engine optimization (SEO) is to ensure that your content be discoverable and must be relevant for users via search engines such as Google and Bing.
To accomplish this, learning how to write SEO-friendly and quality content is crucial.
Writing SEO-friendly content includes:
Knowing and understanding your visitors or audience

– Before you start writing content, you need to consider some of the key factors that relate to the topic you wish to write about. This step usually starts with a question like, "What is my audience looking for?"
Selecting your topics carefully

– Users experience should be first when writing content, while SEO considerations are incorporated naturally within the content. This mindset will prove that your content aligns with the ultimate objective of content development: providing helpful knowledge or information to your current and future audience.
Writing for your audience and not just for the search engines

– Quality content is about building a great user experience for your audience and answering their questions. High-quality content proves to be helpful in garnering backlinks or external links from other sites, which is also among the top factors.
Start with Research
You ideally want to start with research. Research the type of queries you're trying to answer, which keywords to focus, length, and type of your content.
Paid tools such as SEMRush, Ahrefs, also help you with research and with proper keyword optimization. If you want to make sure you're focusing on the right keywords, you definitely should have these tools but i would suggest starting with free SEO Tools such as Analyze SEO, Report-SEO , or SuperSiteTools, these free tools provide in-depth SEO reports and analysis for free of cost.
Type of Content
If you want to see what kind of articles are currently ranking, just put your target keyword into Google search. This is part of research, and helps you understand what kind of article you should write.
You may notice some kind of pattern in the search results.
For example, Google may display listicles or a form of writing in a list format. If you search for the best SEO tools for WordPress, you may find that the search results display listicles.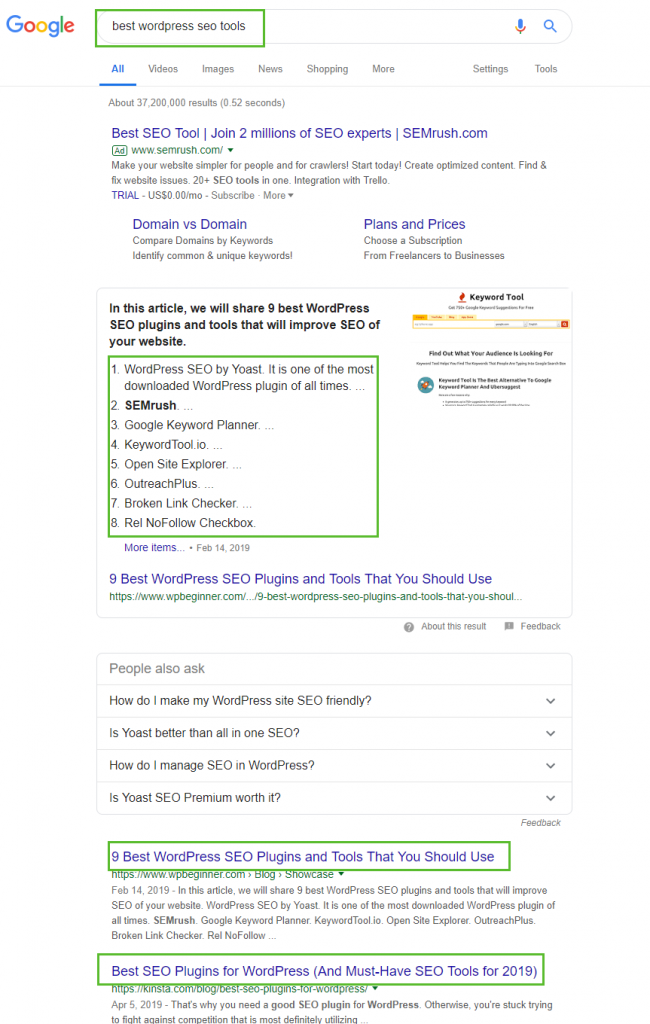 Length of the article
If you want to know the typical length of articles that rank your target keyword, you can use a free tool called SEO Rambler.
If the first-page average word count is 2,445 and the top 3 average word count is 3,576, you have to make sure that the article that you're going to write is more than that.
You should ideally write content that's at least more than 3,600 words in that instance.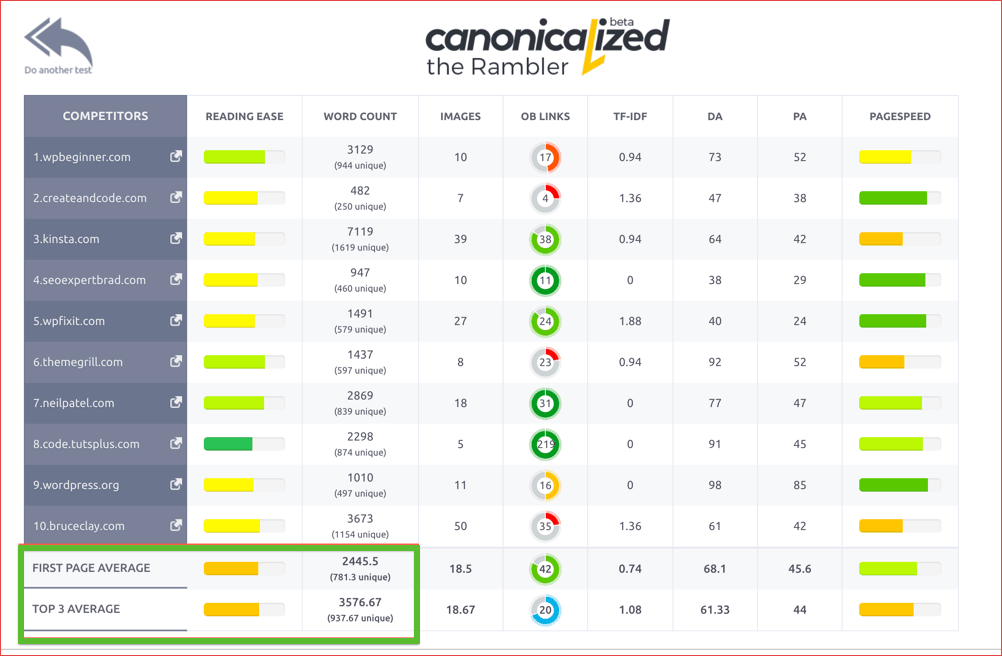 Now, you need to create an outline of your content. You can get an idea by analyzing the top 10 results of the target keyword.
People also ask
If you search for your target keyword in Google search, you will notice the "People also ask" section. You may want to select the questions that are most relevant to your topic and answer these questions in your article.
If you click on one of these questions, you will notice that more items will display on the list. This helps you find more questions that you can answer in your article and this is one smart way of optimizing it.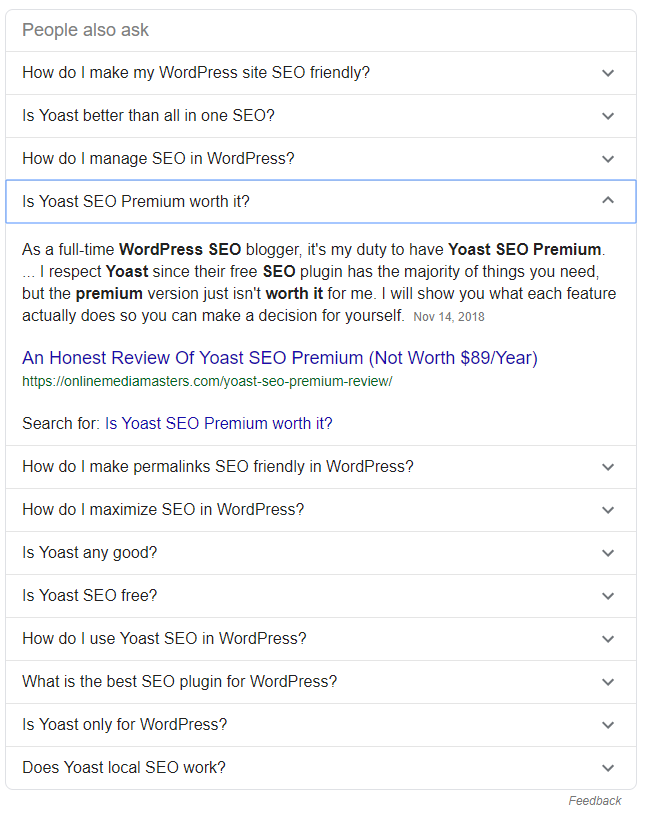 Now, go ahead and write that article!
Actionable Tips for Writing SEO-optimized Content
Once you've written the content, here are a few more tips to enhance your article's SEO.
1. Post title and meta title
The post title is how your readers see the title of the post on your website. The meta title is how search engines will show your post in the search results.
It's vital that you add your target keywords in the meta title because if not, search engines will treat your post title the same as the meta title.
Post titles should be less than 66 characters.
2. Post meta description
Adding meta descriptions is as valuable as adding meta titles on your post as this serves as a sales copy for your post. You need to create a meta description that's about 156 characters and enticing enough for the visitors to click on it.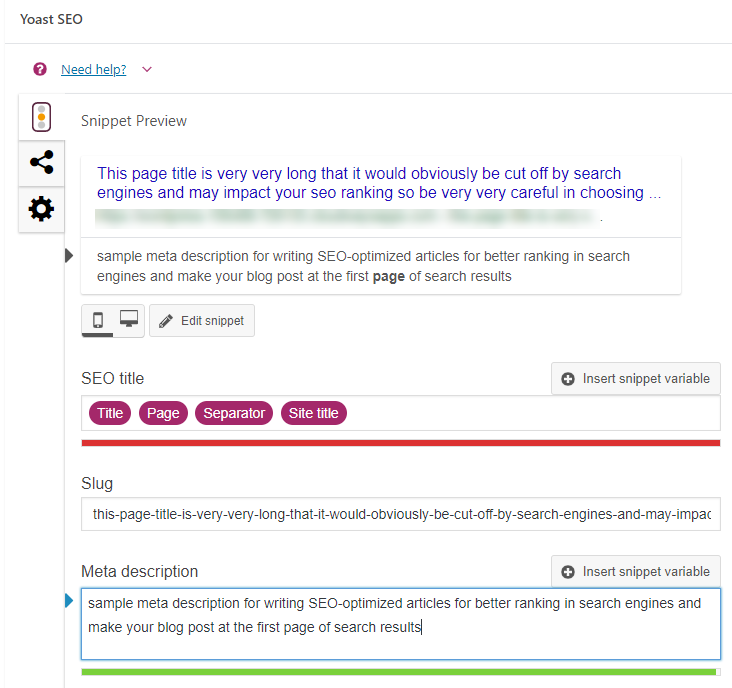 So, if you have not done any meta description, better do so now and make sure that every post you write has the potential of driving maximum traffic to your website.
3. Structure Your Content
Structure is key in writing SEO-optimized content. It helps the search engines understand and accurately index your content and helps human visitors make sense of what's on the page.
Using the correct H1, H2 and H3 headings for all content. Try to keep sections logical and cover all your main points within each.
When writing sub headers, try to keep them descriptive and make sure the content delivers on what the header promises.
Make sure to also include your keywords in sub headers and in the content where they would fit naturally.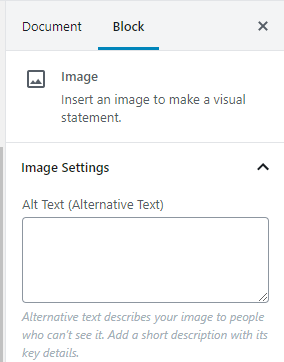 4. Use Optimized Images
Page loading speed is a key SEO measure. The faster your page loads, the higher it should place in search engine results pages.
All other things being equal, the faster page ranks highest.
If you use images on your posts and pages, optimizing them is key. Images are probably the largest files on a page, so the smaller they are, the faster they load.
That's where image optimization comes in.
There are a number of tools out there that can optimize images for SEO. Find one you like and use it to optimize every image you use on the page.
5. Image Alt Attribute
Humans are visually stimulated. It's part of our hunter heritage and something that's as true today as it was 15,000 years ago. We find it more relatable when we see visuals, which is why using images in your content is so important.
They increase audience engagement and are another contextual element that can be optimized for organic search. Search engines "read" the alt attributes ("alt text") and image file names.
If an image is appropriately named and optimized, it's more likely to show up in image searches for relevant queries.
Most content management system (CMS) platforms have an image alt text field that can be optimized.
Image alt text should be a short, descriptive phrase of the image. Image file names should be saved before uploading photos and should also be a short, descriptive phrase separated by hyphens.
6. Interlink and anchor text
When you write a new post, you can link it back to your old posts so that your readers can read on and stay longer on your site.
Search engines can use interlinks to re-crawl your past posts.
Interlinking helps visitors navigate your website, as well as reduce the bounce rate, which is another crucial factor for increasing your SEO ranking.
Anchor text can make or break your interlinking. Using compelling and intriguing anchor text can cause curiosity in a reader, encouraging them to click the link and stay a little longer on your website.

You can also use the SEO Smart Links and Yoast plugin for automatic internal linking. Or you can browse further the extensive list of alternative SEO plugins.
7. Remove 'STOP' words from permalink
Words such as "a", "an", "am", "and," "the," and many other common words are ignored by search engines. Including them within links can waste otherwise useful words you could use for targeting.
For example, your post title is "The Best Ways to Make Money," the permalink by default would be yourdomain.com/the-best-ways-to-make-money.html.
The words "the" and "to" are 'stop' words so you could update your permalink to make it yourdomain.com/best-ways-make-money.html.
This is an optional step but can be useful if you're struggling to remain within character count.
If you do remove stop words, make sure the link still makes sense without it. Otherwise, leave it there.
8. Update Your Content Regularly
Regularly updating website content is a tried and tested SEO-optimization technique.
Google loves fresh content so will assess updated content as it's published and may rank it higher.
Updating content also enables you to take into account new SEO best practices or changes to how Google ranks content.
Algorithms continuously evolve to help give users what they want, when they want it. What was once best practice when you initially wrote the article may not be best practice now.
Updating gives you a chance to change that.
Plus, humans like fresh content too. If we land on a page that has been there a couple of years, we don't trust it as much as something published more recently.
For both those reasons, we think updating your content regularly is key. Just how regularly is up to you!
Conclusion
As I've mentioned, anyone can write content and publish it. But, if you want to rank higher in search engine results, you need to learn how to write SEO-friendly content.
Of course, you don't want to waste time and effort writing articles and not being read by your target audience, right?
So, give our tips a try and write that optimized article to make your pages hit page 1 of the search engine results or hire our services for quality SEO Content.
Don't forget to tell us how you get on. Share your success stories in the comments below!