Here is a rundown of Cloudways' features:

Let's tackle in detail the key features of Cloudways.
1/ Easy Server Management with Cloudways' Custom Control Panel
Once you've signed up, you'll find Cloudways' unique control panel to manage your servers. It's different from the usual cPanel you might have encountered elsewhere. However, Cloudways' custom control panel is user-friendly and up-to-date. Within this panel's menu, you can navigate through Servers, Applications, Teams, and Projects.

2/ Application Management
Let's talk about the settings found under Applications. Once you have set up a server, you can add applications any time; for instance, WordPress.

You will then enter the Applications page. You can configure many things here through the tabs. One relevant tab is for domain mapping.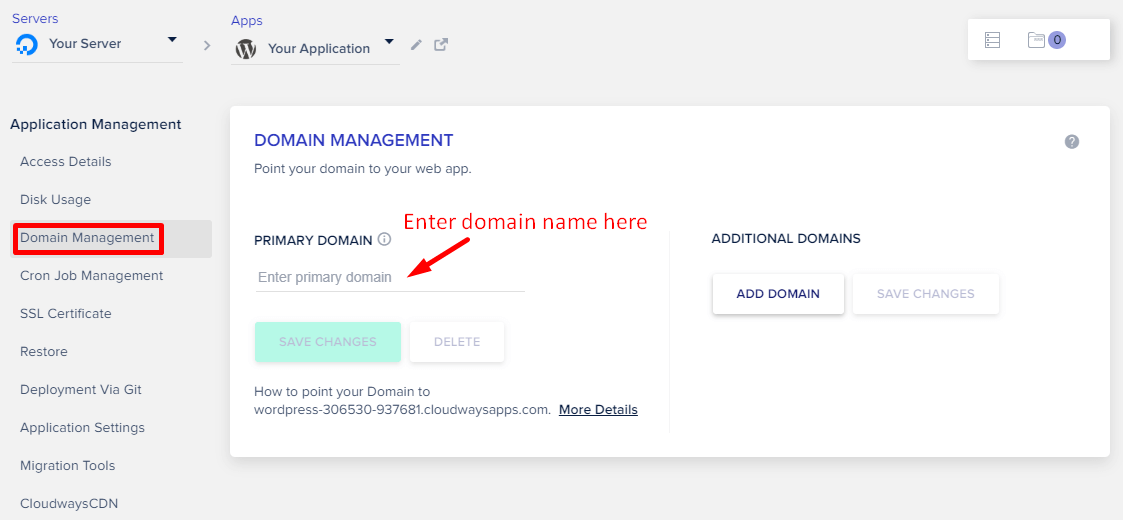 If you don't have a domain name to be mapped or you haven't registered one yet, you'll be provided a temporary URL by Cloudways. This way, you can start building a website and access the control panel, as shown here. Meanwhile you can check domain availability and even buy your desired domain at YourDomainer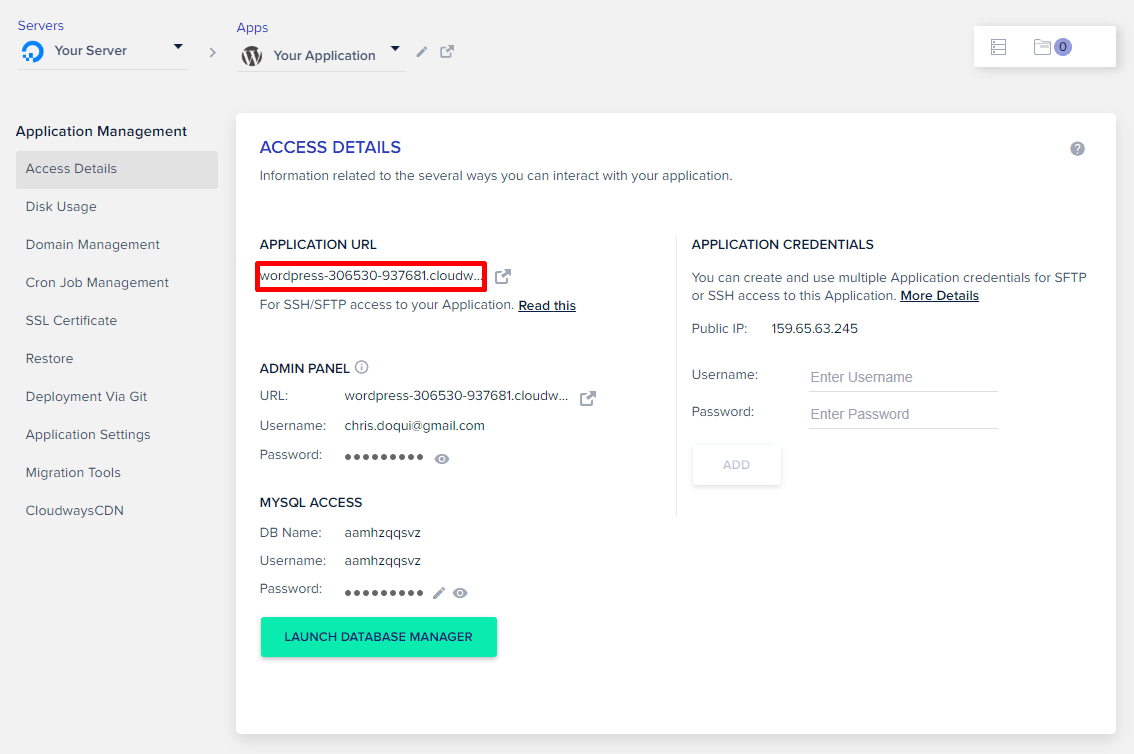 There's also a page for one-click SSL installation where you can install free Let's Encrypt SSL certificates. You can also get your certificates then install them here.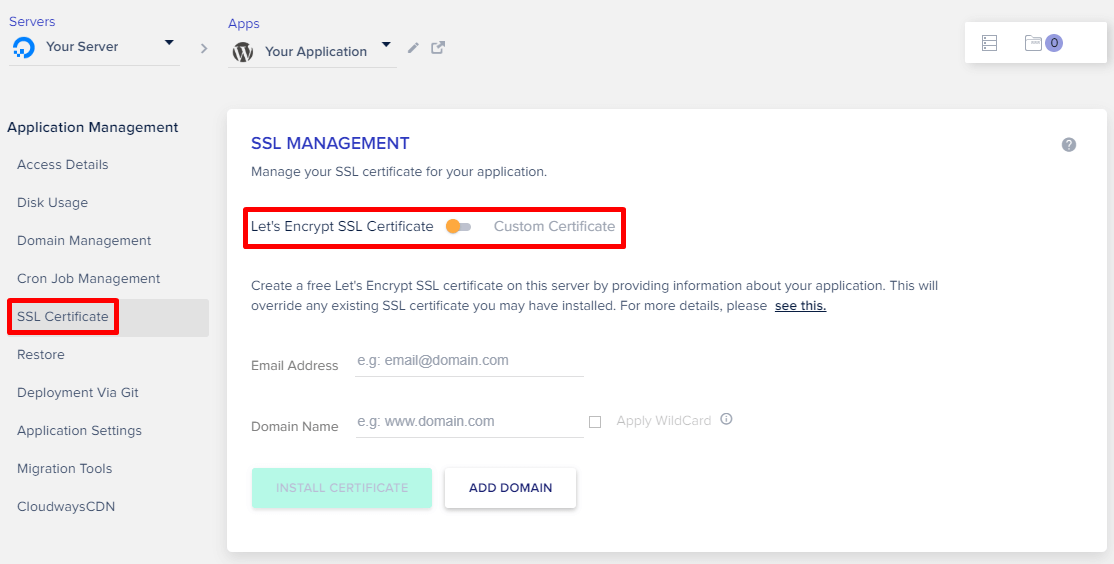 Recovery is also a one-click operation, and it's located under the Restore tab.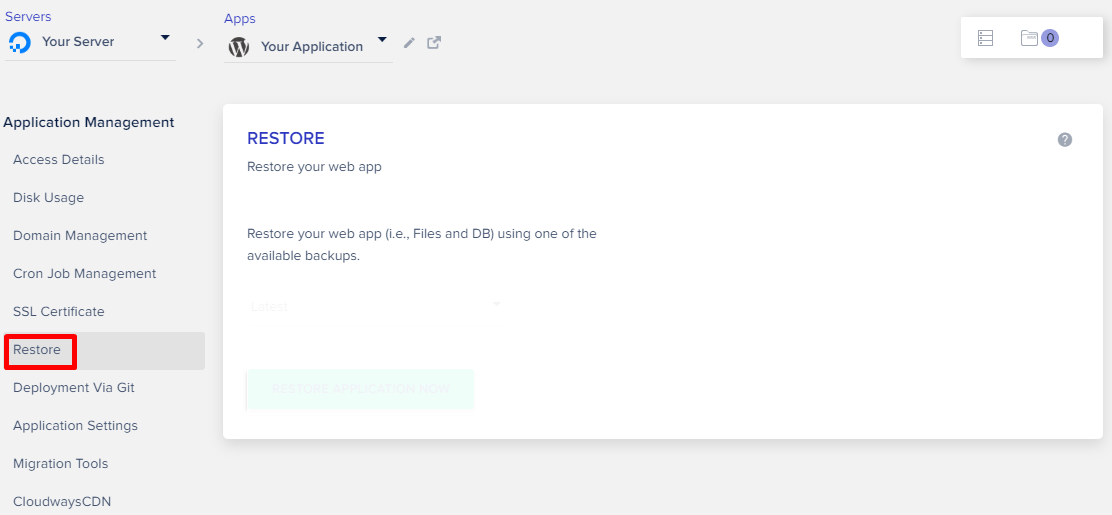 3/ Server management
Once you're done with setting up an application, you can now work on running the other aspects of your website under Servers.
You can check your login credentials under Server Management.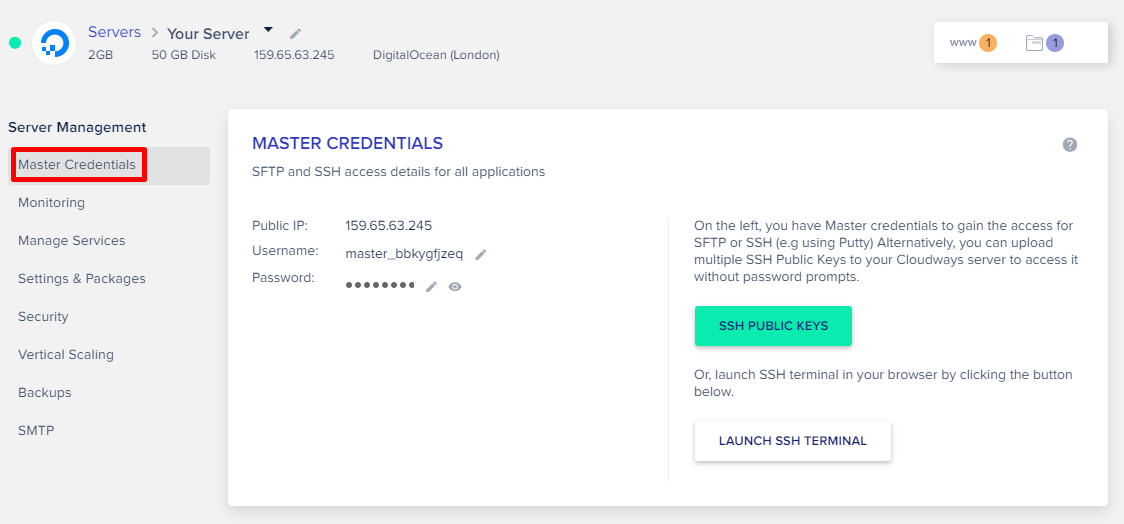 There's a subpage for monitoring CPU usage. This is very important as consistently high usages could affect your website's performance.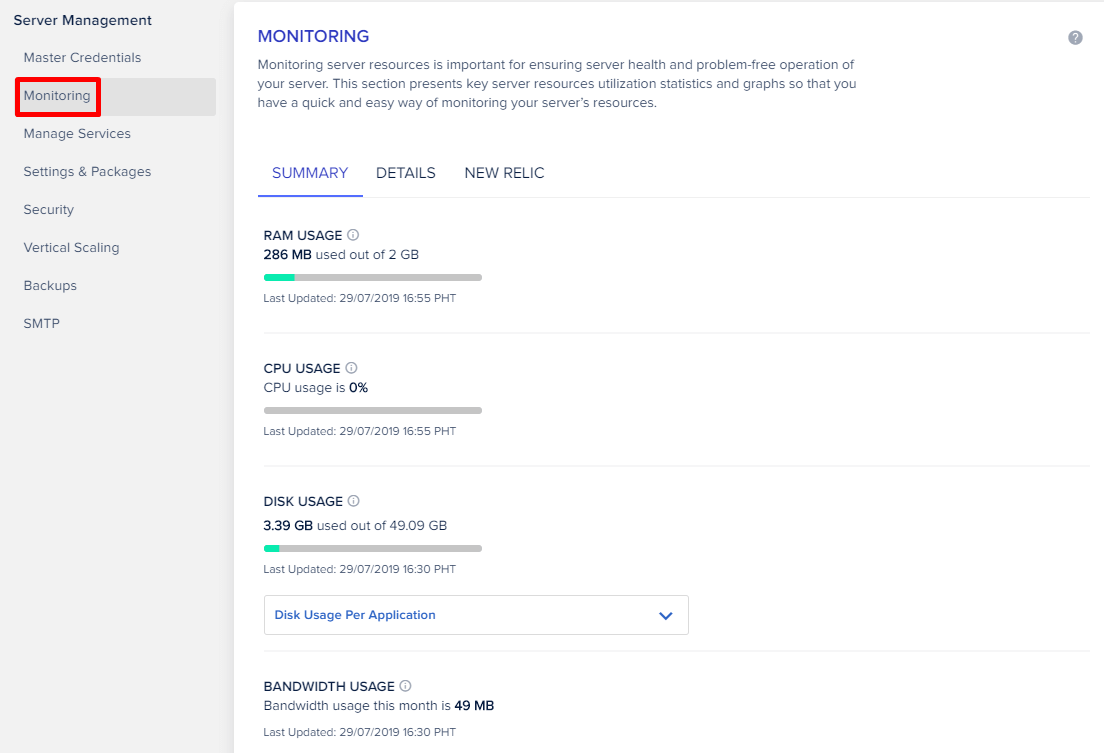 The services running on your server are listed under Manage Services. Here, you can start, stop, and restart one or many services at any time.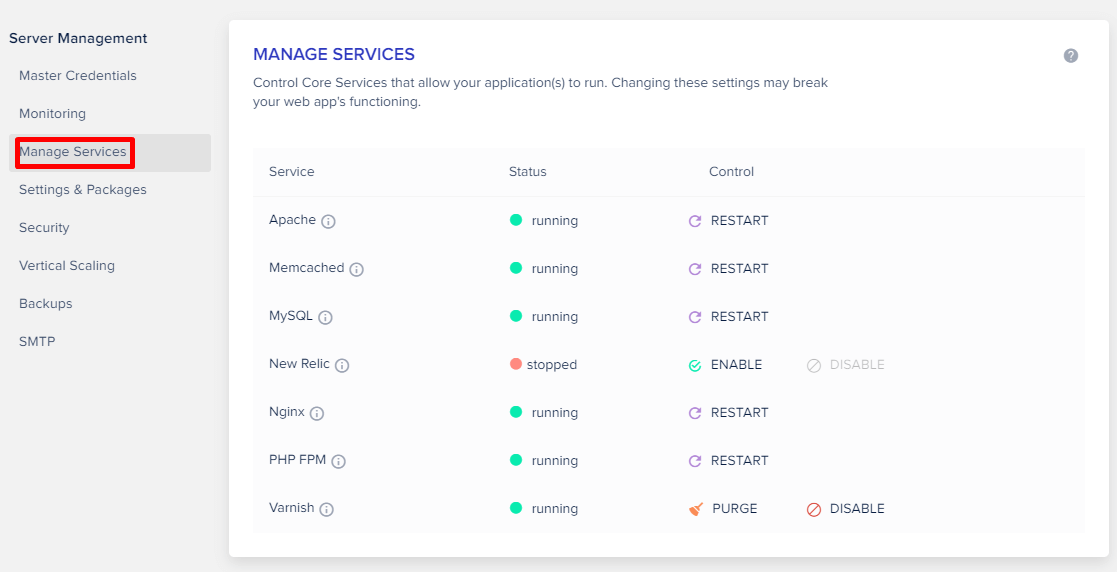 You can configure PHP settings, PHP and MySQL versions, and other server-level settings under Settings & Packages.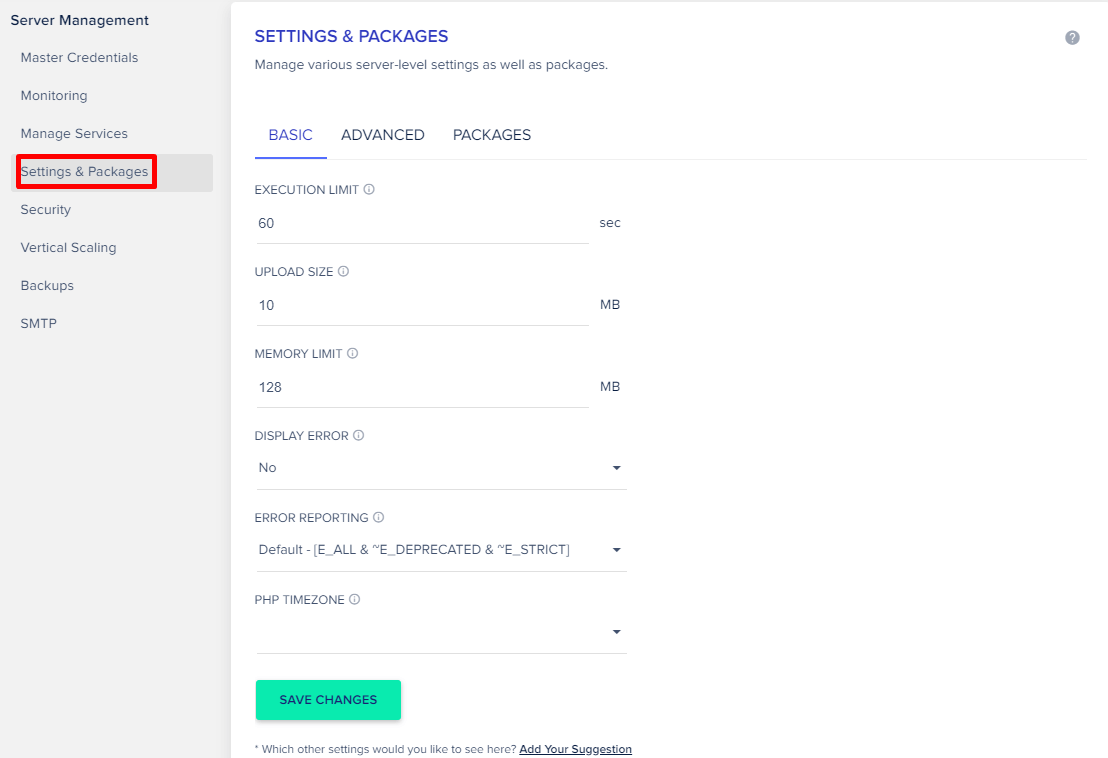 In the Security section, you can block certain IP addresses from gaining access to your resources.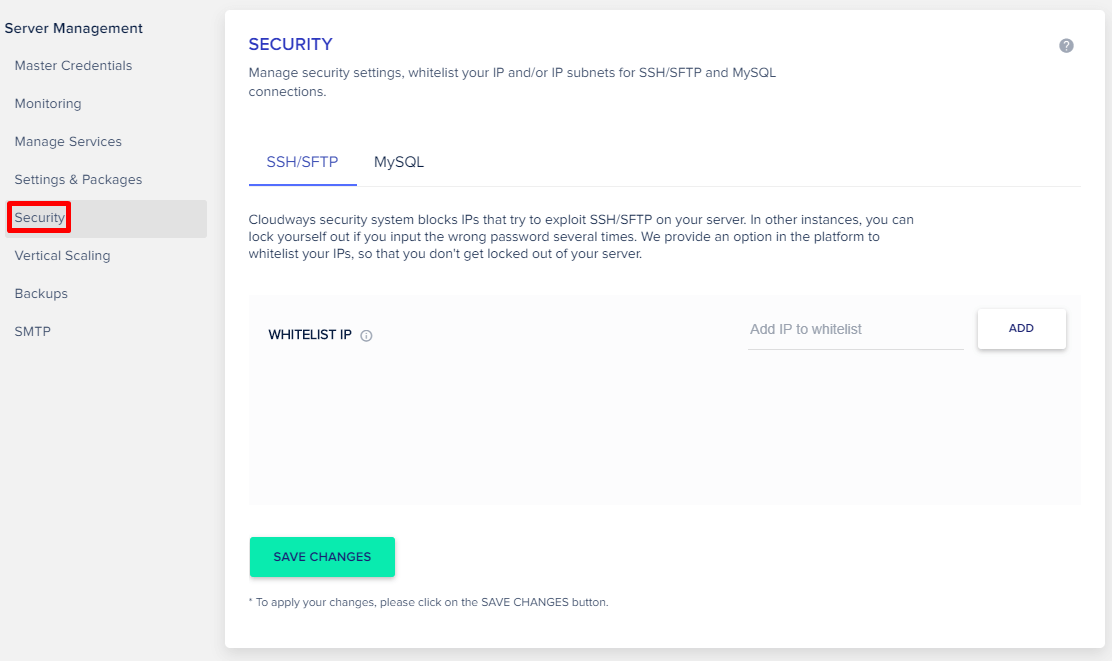 If this isn't enough, any expert users can log into the server via SSH to check and tweak the settings. Cloudways also provides cloud-based firewall as protection against malware and other types of cyberattacks.
Backups will run daily by default, but you can modify the schedule.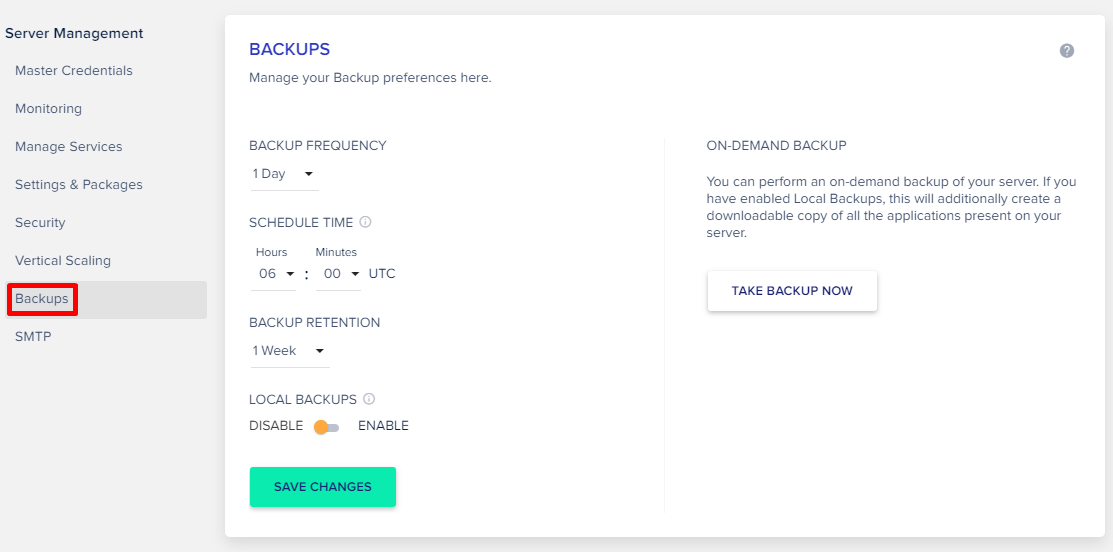 Lastly, there's an SMTP tab for setting up outbound emails from your server.

4/ Team management
A great collaboration feature, Team provides you a way to add team members and assign them full or limited access to your website.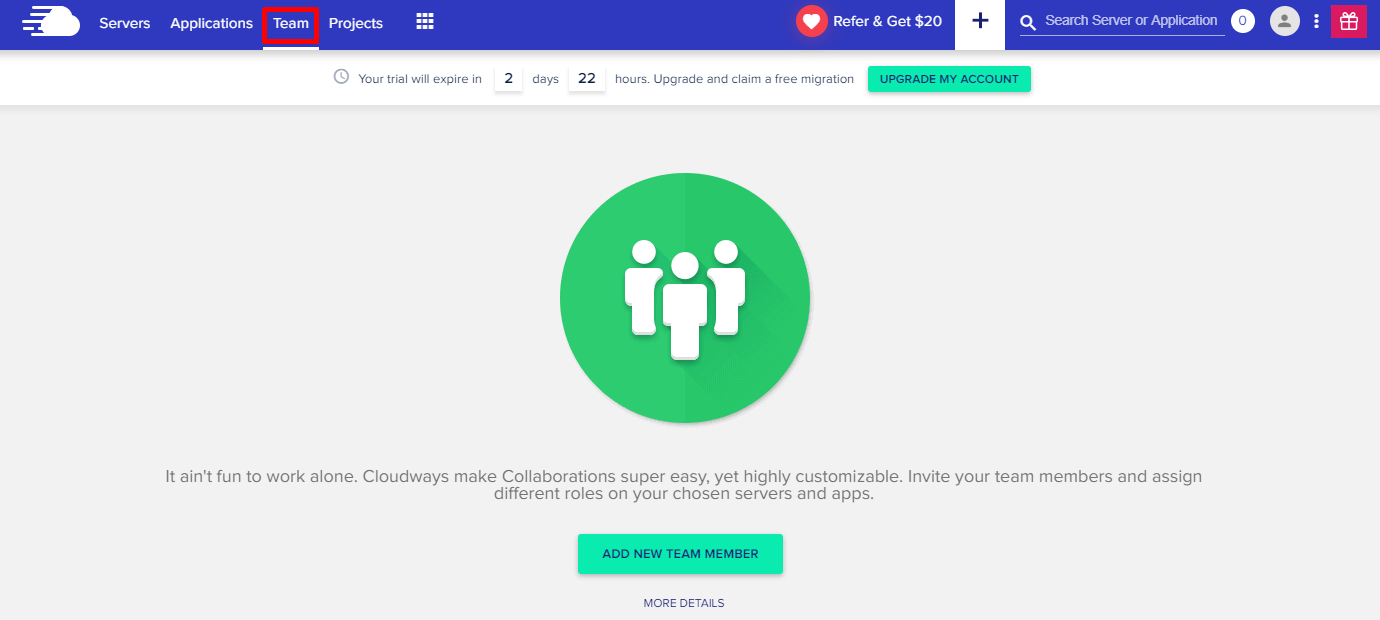 5/ Cloning and Staging
When making lasting changes to your website, it's wise to test them before committing. Cloudways offers a useful tool called staging. With this feature, you can create a testing area, try out changes, and once satisfied, apply them to your actual site. This way, you can avoid making changes that might be hard to undo.

Cloning is similar to staging. It's handy when you're transitioning to new servers or showcasing your site to others. You can easily create duplicate sites for these purposes.
6/ Boosted Speed with Advanced Caching
Cloudways relies on five cloud providers: DigitalOcean, Linode, Vultr, AWS, and Google Cloud. These providers offer powerful server solutions, ensuring speedy performance thanks to their SSD-based VPS and dedicated servers.
In addition to this robust infrastructure, Cloudways utilizes various caching techniques to optimize server speed. They've developed their own caching plugin called Breeze, which can be easily enabled or disabled. Notably, it supports Cloudways' content delivery network, Cloudways CDN.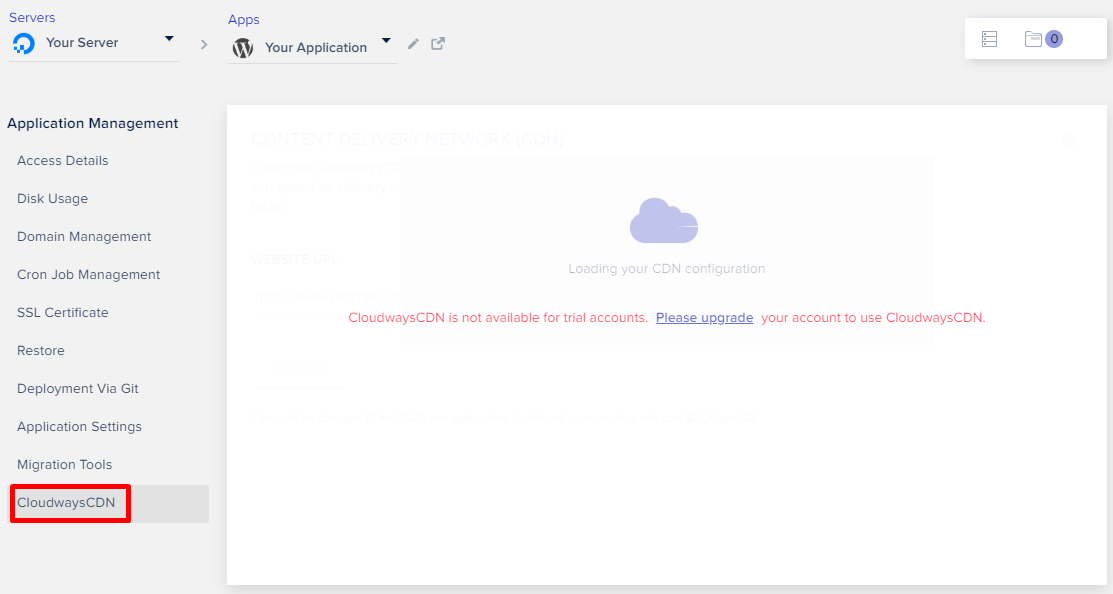 Cloudways CDN takes speed and reliability up a notch by storing your web pages on servers worldwide. While this feature isn't available with the free trial, it's accessible with any paid plan at a nominal cost. You'll find it under Application Management and can add it with a simple click.
7. Vertical scaling
If you ever need to improve your server's capabilities, don't worry. With Vertical Scaling, Cloudways makes it easy to boost your server resources. Just a few clicks, and you're done. This helpful feature is located in the Server Management section.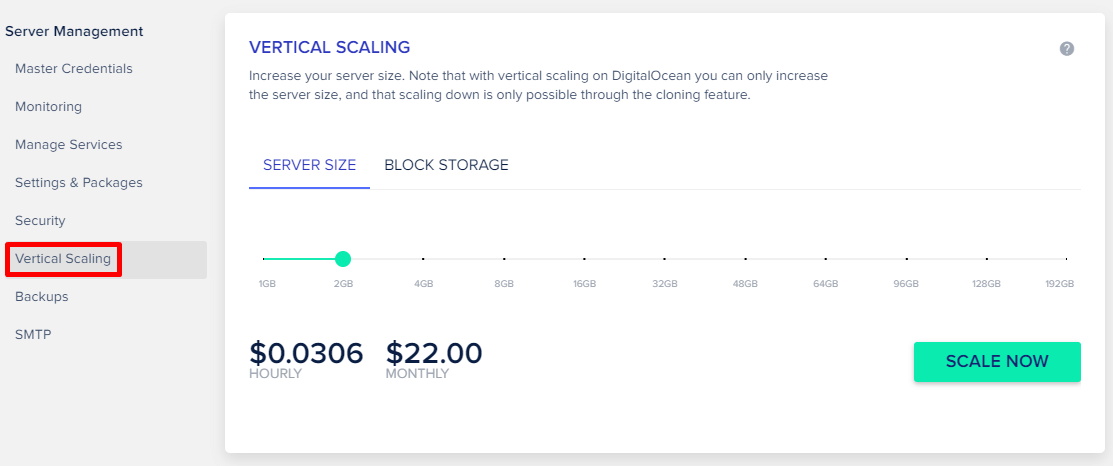 The best part? Scaling isn't just one-way. You can also reduce your server's resources if you want to return to your previous hosting plan.
5. Customer support
Cloudways is here to support you around the clock. If you need help, their live chat support is ready to provide instant assistance, 24/7. But that's not all. You can also choose to request a call, send an email, explore their informative blog and knowledge base, or even join the conversation on their community forum and social media platforms.
And that's not all – Cloudways goes above and beyond with their CloudWays Bot. This clever bot keeps an eye on your servers, sending you notifications whenever there's an important update or an issue that needs your attention.

Cloudways Pricing: Flexible and Affordable
Cloudways makes pricing simple and flexible, following a "pay-as-you-go" approach. While it might seem a bit complex at first, Cloudways offers different plans based on partnerships with five major cloud providers: DigitalOcean, Linode, Vultr, AWS, and Google Cloud. Let's break it down: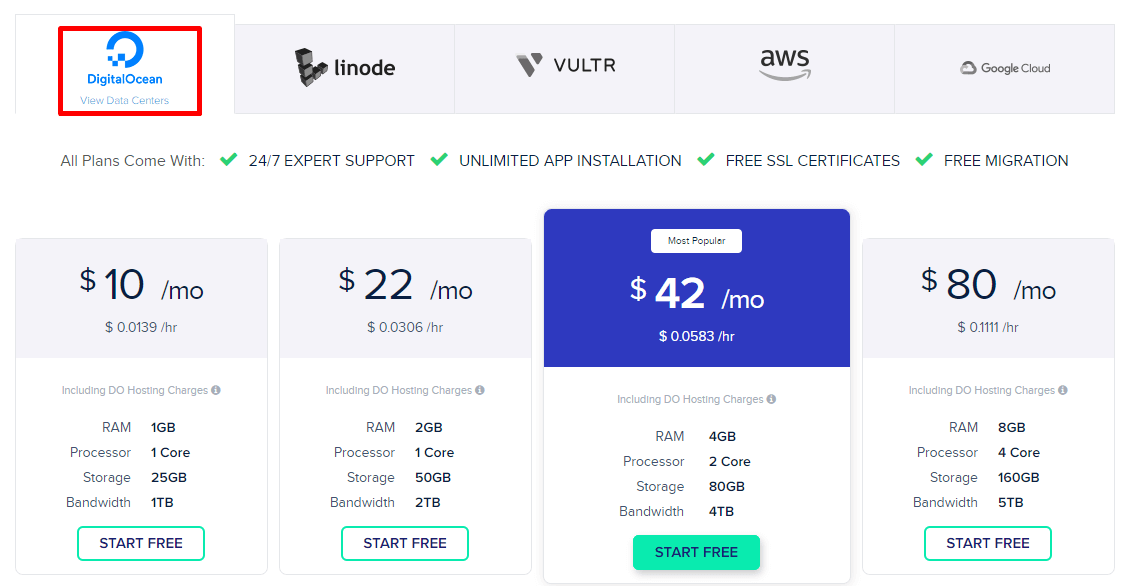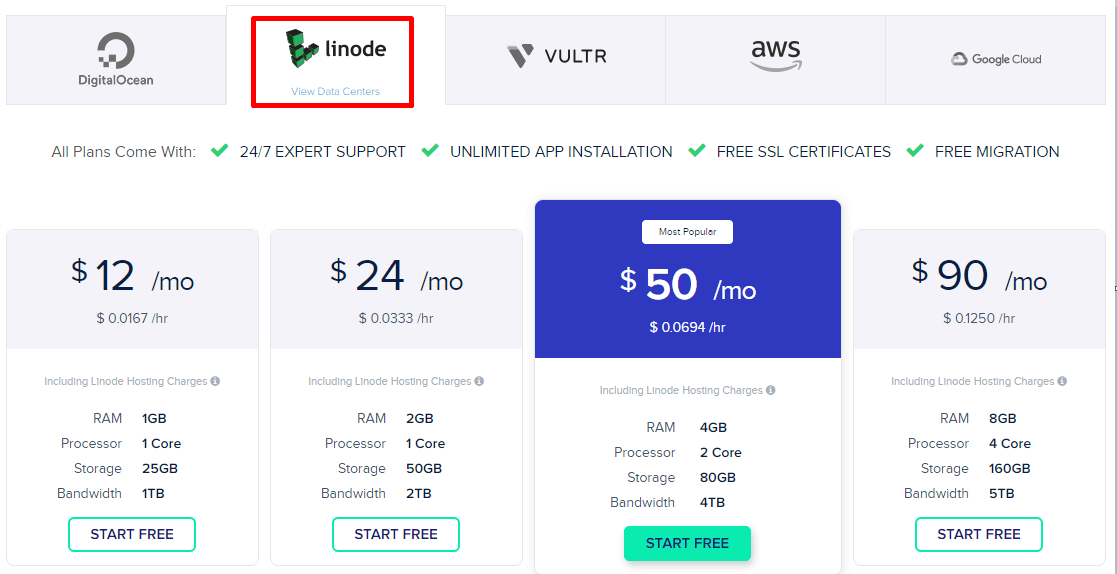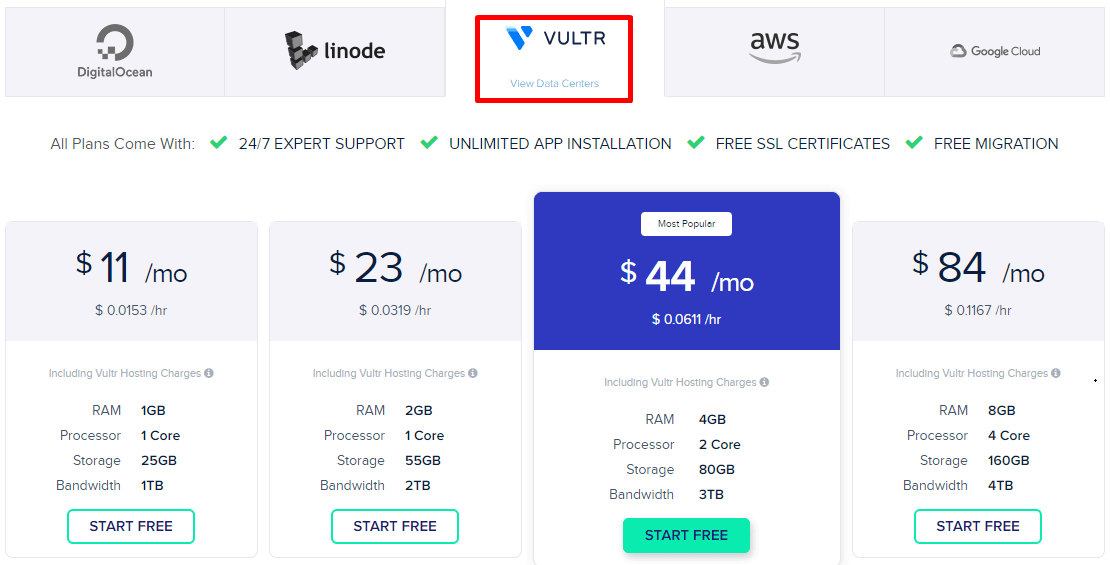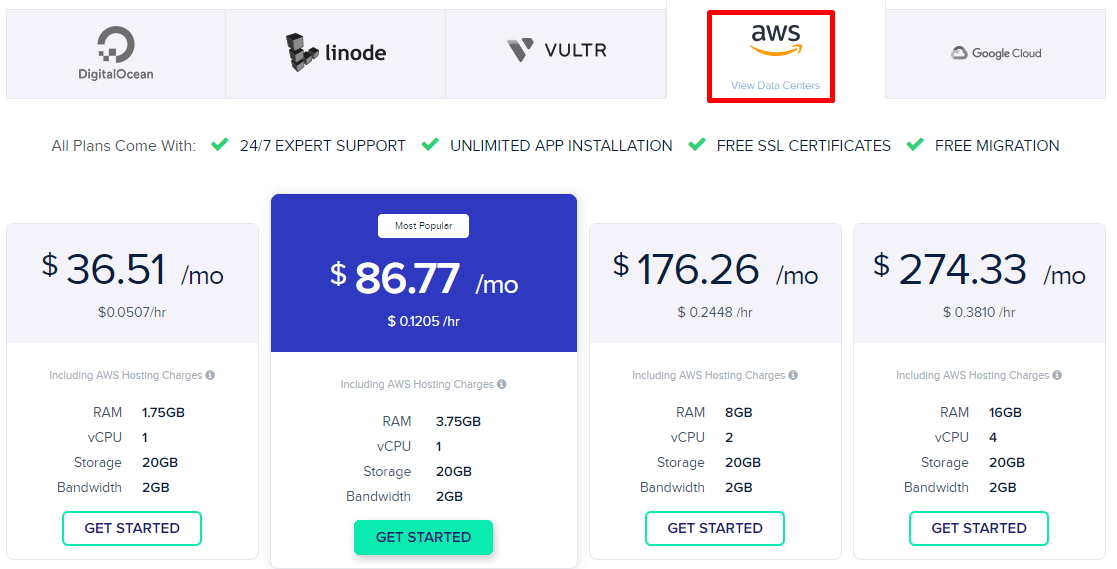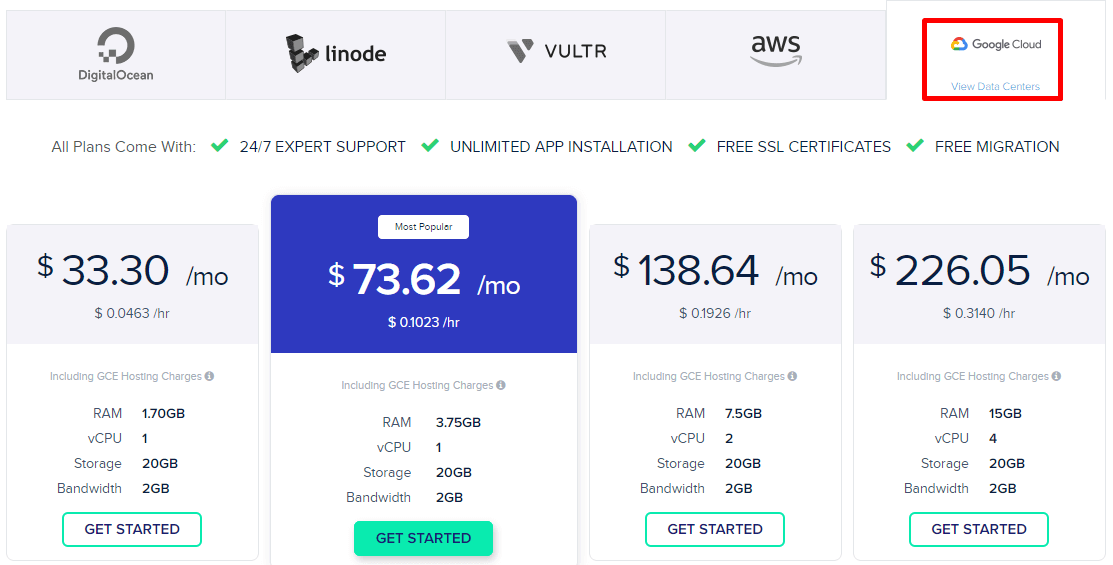 For beginners, the basic plans with DigitalOcean and Linode are great options. But if you're a power user, you might want to consider plans under AWS or Google Cloud.
You might wonder, why not go directly to these cloud providers? Well, you could, but with Cloudways, you get the added benefit of managed hosting support. That means you don't need to set up everything on your own – Cloudways takes care of the technical stuff.
And if you're hesitant, Cloudways has you covered with a free three-day trial. It's a short but sweet opportunity to test out their features, without even sharing your credit card details. Keep in mind, this trial is available for DigitalOcean, Linode, and Vultr plans.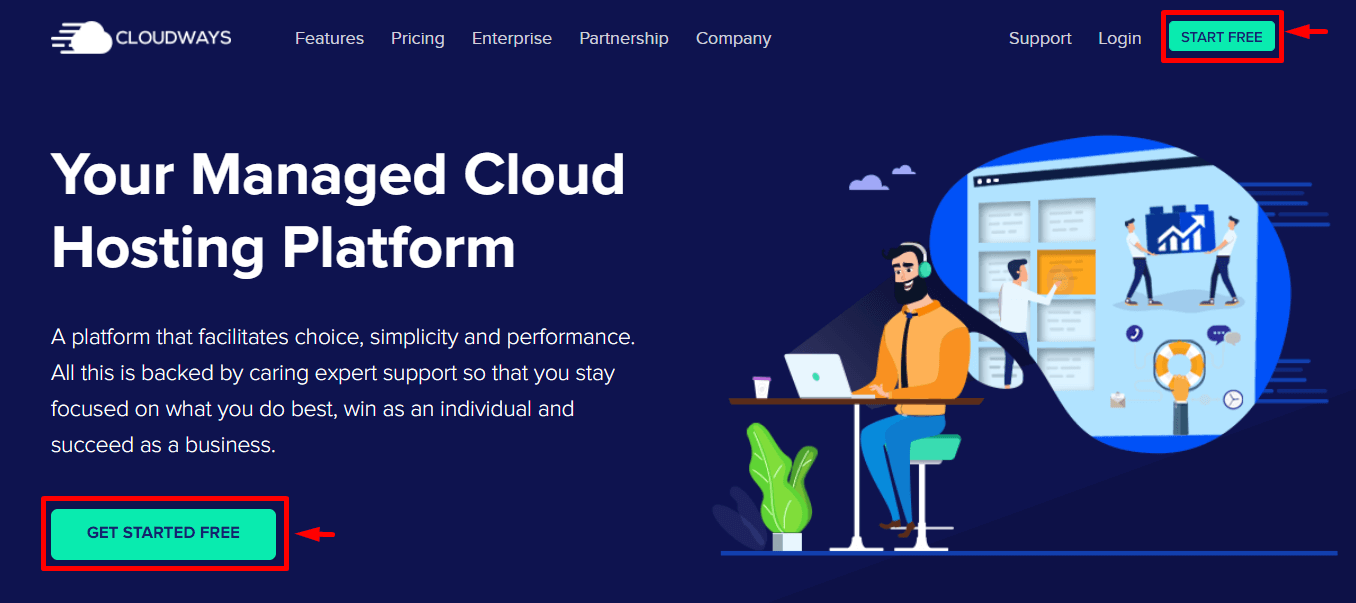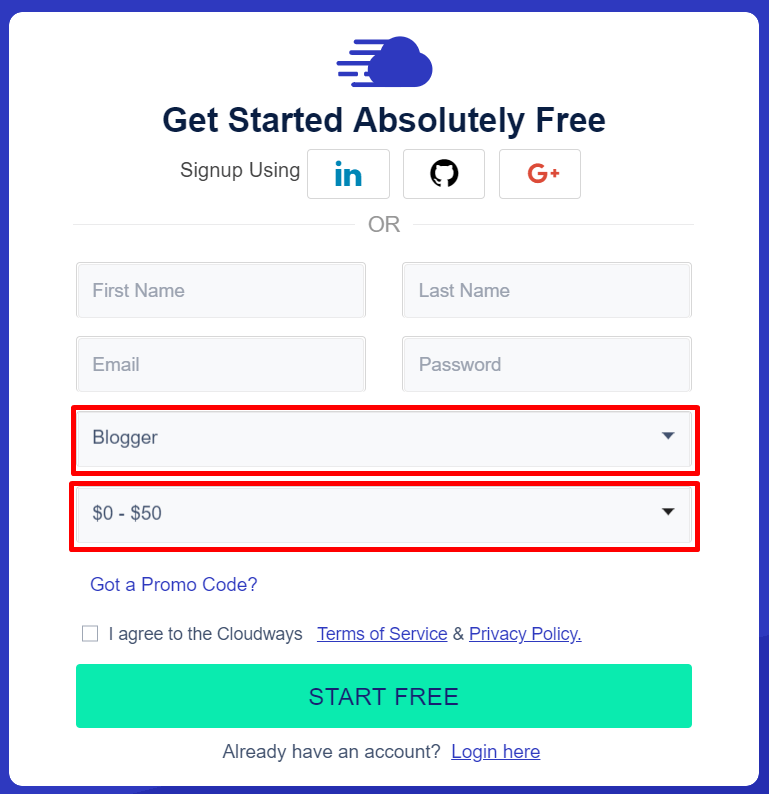 One thing I really like about Cloudways is their pricing flexibility. You only pay for what you need, avoiding long-term commitments. Plus, upgrading is a breeze thanks to Cloudways' Vertical Scaling feature.
When it comes to payment, Cloudways accepts major credit cards and PayPal. And here's a bonus: if you decide you don't need all the funds you added within three months, Cloudways will refund the unused portion.
What I Like About Cloudways: Easy and Flexible
Using Cloudways is very easy. Creating websites and adding apps is as simple as a few clicks. You can install apps like WordPress or Magento automatically. If you have an existing website, Cloudways can help you move it over smoothly using their special tool.
While those who are used to cPanel might find Cloudways a bit different, the custom control panel is user-friendly. I'm especially fond of the Monitoring and Vertical Scaling tabs under Server Management. They let you keep an eye on your server's performance and tell you when it's time to make it even better.
Unlike regular shared hosting, Cloudways takes care of most things for you. It uses its own technology, like CloudwaysCDN, to make sure your website loads quickly and works well. Plus, features like staging, cloning, and temporary URLs are great for newcomers.
And their pricing? It's flexible and adapts to your needs. You can adjust your hosting plan up or down as you see fit. They even have a free three-day trial, which might not be long, but it's enough to test what Cloudways can do.
What I Don't Like About Cloudways: Limited Control
Now, Cloudways does everything for you. If you want more control over how your site runs, like tinkering with technical stuff, it might not suit you. Also, if you want to build a custom app in a programming language other than PHP, you might face some limitations. But these concerns mainly affect tech-savvy folks.
Cloudways doesn't offer domain name registration. But don't worry, they give you a temporary URL to start. Another thing, they don't provide email hosting. Some might not like this, but in certain situations, it can be okay. However, you really need to create a professional email address, there are free and paid methods, check this related article here: Paid and Free Ways To Create Professional Email Address for Your Business
When it comes to customer support, there's room for improvement. Sometimes, I got responses that were too technical or not quite accurate. Plus, it could take a while to get my issues resolved.
Final Thoughts on Cloudways: Scalable and User-Friendly Hosting
Cloudways is a web hosting service that uses cloud technology to make your website faster and more reliable. At first, the pricing might seem a bit confusing, but it's actually quite flexible. This means you can pick a plan that fits your needs well. The "pay-as-you-go" idea is great if you don't want to spend too much on hosting. Plus, it lets you change plans easily without being tied down.
The special control panel that Cloudways has is perfect if you're not a tech expert. Even if you're new to building websites, it's easy to use. While they offer some useful one-click tools, they're not as advanced as some other companies'.
Overall, Cloudways strikes a good balance between price and features. They team up with five big cloud providers to give you fast and reliable hosting. If you're not sure about Cloudways, you can give it a shot with their free three-day trial.
Final Verdict: Is Cloudways Good for You?
I really like what Cloudways does. You could go directly to the cloud hosting providers, but with Cloudways, you get their helpful control panel and, most importantly, support.